Our first meeting of 2023 will take place on Monday 9th January 2023 in Ballyclare High School Lecture Theatre starting at 8pm.
We are really pleased to welcome back Professor Michael Burton, to give us a talk titled 'History of Armagh, Birr and Dunsink Observatories'.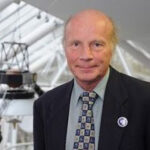 About Michael: Michael is the first Joint Director of both the Armagh Planetarium and Observatory. Click here for more!
Please note: Under 16's are very welcome but due to our child protection policy, we ask that they are accompanied by an adult.
As always we will have refreshments available after the meeting.  A donation bucket is available at the door if you wish to support us in our work!
Hope to see you all there!